Spring is here!! (Ok, not in Malaysia obviously)
To honor spring I'll be posting about flowers. Hopefully it will help in any kind of way..maybe for B2B which haven't decide which flowers to use..
First flower that I'm gonna introduce is my favourite of course. CALLA LILIES. Which spells beauty and simplicity.
Here are some ways of using calla lilies for your wedding :)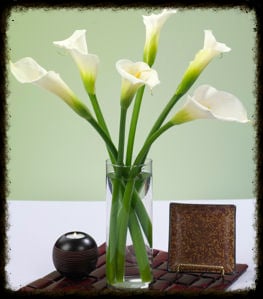 As centrepiece
Simple and nice..Just fill up a clear long vase with water then walla!! :)
As boutonniere
As hand bouquet
Calla lilies is perfect for sheath bouquet. Just tie it with ribbons. Cantik without much effort :) Also use it with with other flowers for more intricate, cascading bouquet.
As cake decorations
As tiara/headband
*pictures are googled*
And here are calla lilies I made using nylon stockings :)